BradyIFS doesn't appear to be slowing down any time soon.
On April 1, the foodservice disposables and JanSan distributor announced the bolt-on of Associated Paper, a JanSan distributor based in the Atlanta suburb of Conyers, Georgia. The company has three locations, serving metro Atlanta, central Georgia and Alabama. 
Terms for the deal weren't disclosed.

It's just the latest deal out of BradyIFS, the result of a late 2020 merger between Brady Industries (Las Vegas) and Individual FoodService (Bell, California). Since then, the company has made nine more acquisitions. The previously most recent of them was Vineland, New Jerse-based SupplyitAll (A South Jersey Paper Company), which BradyIFS said pushed its annual revenue to over $1 billion.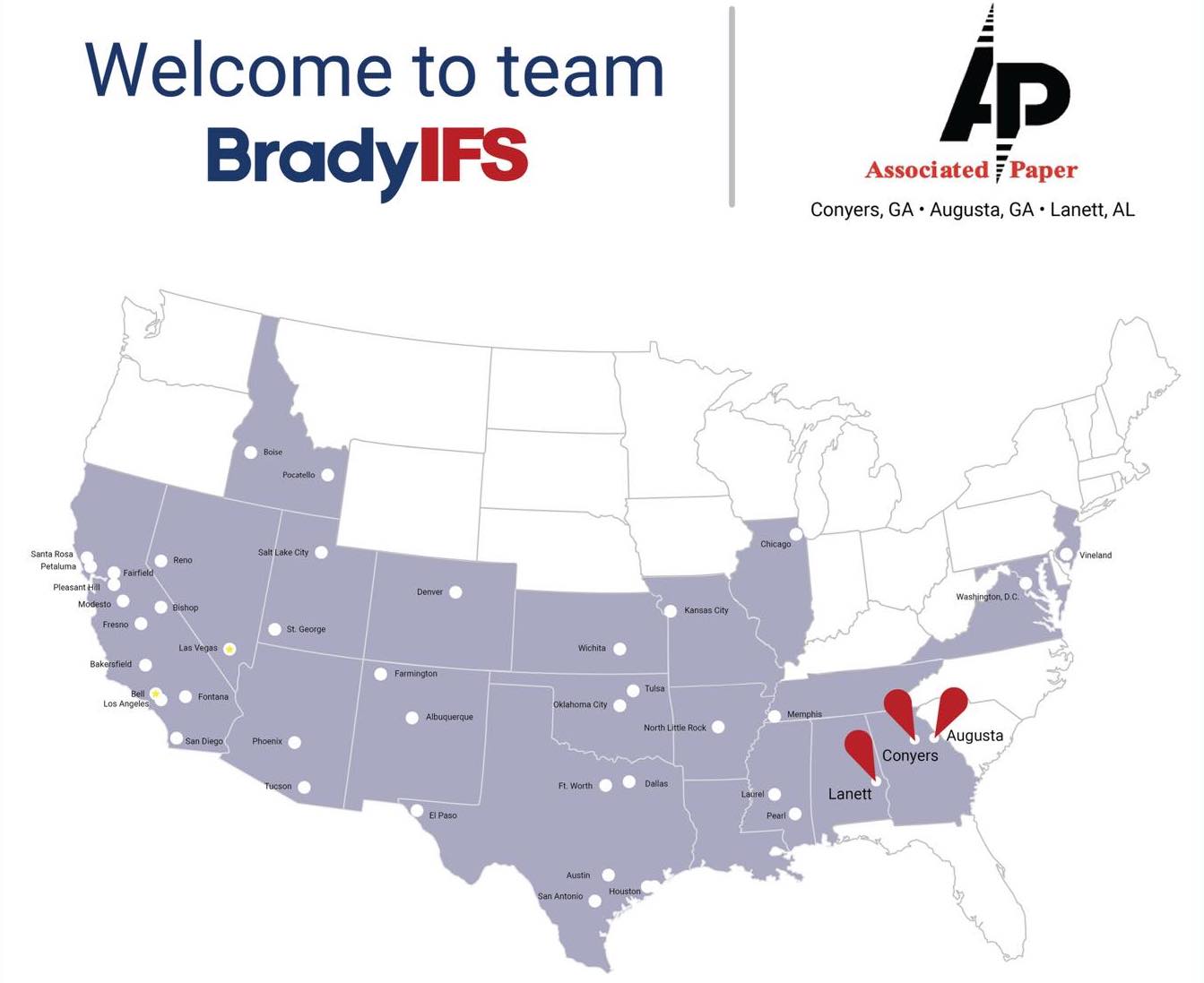 In business since 1967, Associated Paper carries products in the categories of janitorial supplies, skin & personal care, foodservice, facilities & grounds, office, packaging and more. The company has been led for the past 32 years by president Ronnie Kent, who joined AP when he was 16. 
"Associated Paper is an industry leader with unique capabilities," BradyIFS chairman and CEO Kenneth Sweder said. "Their approach, sourcing expertise and infrastructure are wonderful additions to BradyIFS. We are very excited to be entering this geography and to be partnering with such a great team."
"We are thrilled to be joining the BradyIFS team," Kent added "Their distinct value proposition and expansive relationships across the industry will be incredibly additive to Associated Paper and will better support our growth plans."
The move continues to grow BradyIFS as one of North America's largest JanSan and foodservice platforms. Prior to SupplyitAll, the company's six 2021 acquisitions spanned both U.S. coasts: Janitor's Warehouse (Houston); Seaway Supply Company (Chicago); Millennium Packaging & Distribution (San Antonio); Fishman Supply Company (Petaluma, California), Armstrong Paper Group (Santa Rosa, California) and Elkins Wholesale (Laurel, Mississippi); along with Kerr Paper & Supply (Little Rock, Arkansas) just after the Brady-IFS merger in December 2020.