In 2022, U.S. reshoring and foreign direct investment job announcements were at the highest rate ever recorded, according to a March 24 announcement from the Reshoring Initiative.
Fourth-quarter 2022 announcements accelerated even more than anticipated thanks to the Chips and Infrastructure Acts and recent deglobalization trends, the Sarasota, Florida-based organization said.
Reshoring is the process of returning manufacturing and production of goods to from overseas to a company's original country.
In its 2022 Data Report, the Reshoring Initiative found there were more than 364,000 reshoring and FDI jobs announced for 2022. Last year also brought the total number of job announcements since 2010 to nearly 1.6 million, according to the report. Electronic vehicle batteries made electrical equipment the top industry for reshoring and FDI in 2022.
"With the IRA, Chips Act, and Infrastructure Bill, the U.S. Government is finally warming up to an industrial policy, though a more comprehensive plan could be achieved at a lower cost," the Reshoring Initiative said in a news release announcing its report.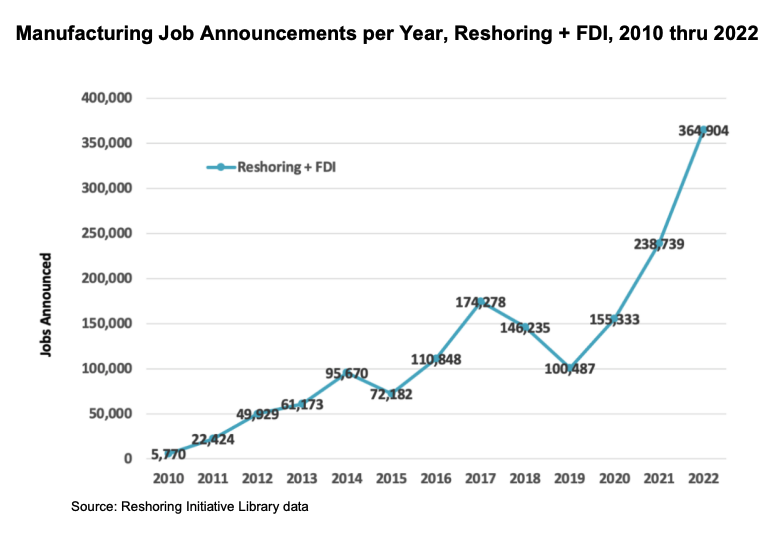 An August 2022 report from Baird indicated that U.S.-based industrial distributors could benefit considerably over the next 10 years from increased MRO demand driven by the domestication of manufacturing production and foreign investment.
Companies in product categories that have been moving some or all production back to North America include chips and EV car batteries, pharmaceuticals, plastics and select apparel goods, Massachusetts-based writer John Johnson pointed out in a February MDM Premium article. To build more resilient supply chains and better serve customers, manufacturers are reexamining how they source and manufacture parts, sub-assemblies and finished products, Johnson wrote. He added that, oftentimes, just-in-time inventory policies are being replaced by just-in-case ones.
According to the Reshoring Initiative's new report, the passing of the Inflation Reduction Act, Chips Act and Infrastructure Bill created "some direction and financial security" to the industries intent on filling supply chain gaps and countering destabilizing geo-political and climate forces.
"The current actions and momentum are a great start," said Harry Moser, Founder and President of the Reshoring Initiative. "A true industrial policy would accelerate the trend and increase U.S. manufacturing by 40%, 5 million jobs. Reshoring will reduce the trade and budget deficits and make the U.S. safer, more self-reliant and resilient."
The report also states that increased nearshoring of work from Asia to Mexico will require about 40% U.S. value added. The Reshoring Initiative expects 2023 and 2024 to remain strong, continuing at approximately 350,000 job announcements per year.