All your exclusive premium content in one location.
Amazon Business' scale and capabilities are intimidating. But as Benj Cohen advises here, distributors can fight fire with fire.

This table highlights key financial metrics and trading multiples for 30 publicly traded distributors in the industrial and building products industries. Download the pdf in this article to see the data. Also find graphic illustrating median EBIDTA multiples for the same distribution companies.

&nbsp ;
These materials,&nbsp ; prepared by Robert W. Baird & Co. for MDM are for informational purposes ...
This is the pdf of this issue of Modern Distribution Management. Apply the full $24.95 pay-per-view cost toward an annual subscription (within 30 days of purchase), which includes two issues a month plus access to more than six years of online archives and market data. Call 1-888-742-5060 or email info@mdm.com to ...

Industrial gases producer and distributor Praxair, Inc., Danbury, CT, reported sales of $8.3 billion for 2006, an increase of 10% over last year. In North America, sales reached $4.6 billion for the year, up 9%.
&nbsp ;
Sales in the fourth quarter were $2.123 billion, up 9% from the same period a year ago. In North America, fourth-quarter sales hit $1.182 billion, up 6%.
&nbsp ;
Praxair achieved strong growth from new business and the start-up of new supply systems in every geography and end market.
&nbsp ;
Sales growth occurred in most major end markets and the company completed seven major projects in 2006. Additionally, the number of new projects underway and set to come on stream in the next several years increased significantly ...

Praxair Distribution, Inc., Danbury, CT, a subsidiary of Praxair, Inc., has agreed to buy Mittler Supply Inc., distributor of industrial, medical, specialty gases and related welding equipment and supplies, operating in Indiana, Michigan and Illinois. Mittler had sales of $73 million in 2006 and has 210 employees.
&nbsp ;
Founded in 1946, Mittler operates a cylinder-gas fill plant, specialty-gas laboratory and a centralized warehouse for distribution of welding equipment and supplies at its headquarters located in South Bend, IN. The firm also operates several satellite cylinder-gas fill plants and 18 retail sales and distribution locations in the three states.
&nbsp ;
"The addition of Mittler Supply to our existing network in the Great Lakes ...

Kennametal Inc., Latrobe, PA, reported sales for the first six months of fiscal 2007 were $1.1 billion, level with the same period last year. Sales grew 6% on an organic basis, offset by the impact of acquisitions and divestiture of J & L Industrial Supply.
&nbsp ;
Sales for the quarter were $569 million compared with $563 million in the same quarter last year. Sales grew 6% on an organic basis.
&nbsp ;
Metalworking Solutions & Services Group sales were up 5%, led by year-over-year expansion in the distribution, aerospace and general engineering markets. The North American market continued to moderate (+1%), while conditions in the European market continued to improve (+11%), and Asia Pacific (+6%) and India (+7%) delivered solid growth.
...

BlueLinx Holdings Inc., Atlanta, GA, distributor of building products, reported revenue for the fourth quarter 2006 declined about 29% to $945 million from the same period a year ago. The company's business that is tied to new home construction was negatively impacted by the slowdown and depressed wood-based structural product prices. BlueLinx reported a net loss for the quarter.
&nbsp ;
The company's fourth-quarter results historically are affected negatively by a seasonal slowdown in construction. It also had a stronger-than-expected 2005 fourth quarter in the aftermath of Hurricanes Katrina and Rita.
&nbsp ;
The company's overall unit volume fell about 17% during the fourth quarter, with structural unit volume down about 18%, and specialty unit ...
UK-based Wolseley plc, global distributor of plumbing and heating products to professional contractors and supplier of building materials, reported it continues to be affected by the slowdown in housing and lower lumber prices in the U.S.
For the first five months to Dec. 31, 2006, Wolseley sales increased 15%, with 3% organic growth. Profit was slightly lower. In constant currency, revenue and trading profit would be about 5% higher. Results for the first six months will be reported in mid-March.
Wolseley says the housing slowdown effect was offset by good organic growth in the U.S. plumbing and heating business (Ferguson), an improved performance in continental Europe and contributions from acquisitions.
In the U.S., new housing starts have ...

Diversified industrial manufacturer Eaton Corp. reported sales for 2006 were up 12% from 2005, and profit was up 18%. Sales were $12.4 billion.
&nbsp ;
Fourth quarter sales were up 10% to $3.1 billion, with profit up 15%.
&nbsp ;
Segment Results
Fourth quarter sales for Electrical were $1.1 billion, up 9% over 2005. End markets grew about 2.5% for electrical, reflecting a slowdown from the growth rate in early 2006. In 2007, Eaton expects 4% growth, with nonresidential markets offsetting a decline in residential markets.
&nbsp ;
In Fluid Power, fourth quarter sales were $985 million, 17% above the same period in 2005. Organic growth was 7%. Fluid Power markets grew 6%, with global hydraulics shipments up 7%, ...

ElkCorp, Dallas, TX, manufacturer of roofing and building products, has received another offer to purchase all of ElkCorp's outstanding shares for $42 a share by an affiliate of Building Materials Corporation of America.
&nbsp ;
The special committee and board of directors, consistent with its recently announced merger agreement with The Carlyle Group, will review the offer and make a recommendation to ElkCorp's shareholders.
&nbsp ;
On January 16, 2007, ElkCorp announced that it has entered into an amended merger agreement with Carlyle, under which Carlyle commenced an offer to acquire all of ElkCorp's outstanding shares for $40.50 per share. The revised Carlyle tender offer represents a $2.50 increase over the $38.00 price per share provided in the ...

Industrial production rose 0.4% in December after a decrease of 0.1% in November. Output in November was previously estimated to have advanced; weaker data for a number of industries, particularly steel, led to the downward revision.
&nbsp ;
For the fourth quarter as a whole, industrial production decreased 0.5% (annual rate). In the manufacturing sector, output increased 0.7% in December, and most major industry groups registered gains.
&nbsp ;
The output of utilities fell 2.6%, the result of relatively mild temperatures during the month, while the output of mines moved up 0.8%.
&nbsp ;
Over the 12 months ending in December, total industrial production increased 3.0%, to a level that was 112.4% of its 2002 average, and total ...

Jackson, MS-based Stuart C. Irby Co., a subsidiary of Sonepar USA, has acquired Burmeister Electric Company, Minneapolis, MN, and High Voltage Testing Laboratories, Fargo, ND.
Burmeister was established in 1919 to serve utility companies in the Upper Midwest.
&nbsp ;
Burmeister is a full-line stocking distributor and manufacturers' agent offering products to the electric utilities for transmission and distribution requirements.=
&nbsp ;
HVTL is a fully certified testing laboratory offering high voltage testing services and sales of PPE (personal protective equipment) safety products, used by electric utility lineman and field service personnel in the contractor and industrial markets.
&nbsp ;
Burmeister will continue to ...

Housing starts in December were at a seasonally adjusted annual rate of 1,642,000. This is 4.5 percent (±8.8%) ...

Applied Industrial Technologies, Cleveland, OH, reported sales increased 4% in the second quarter 2007 to $472.36 million. Profit grew 21% to $18.5 million.
&nbsp ;
For the six months ended Dec. 31, 2006, sales increased 7% to $964.9 million from $899.3 million in the same period last year. Profit was up 23% to $39.7 million.
&nbsp ;
Applied CEO David Pugh said: Although our sales growth was softer than we expected, we believe the economic outlook suggests continued growth through our fiscal year.&nbsp ; We are actively managing our business and are working to keep costs in line with the slower pace of the economy. Based on the current state of the industrial economy, and with six months of results under our belt, we now expect our year-end sales to ...
Investment Banking Directory
The MDM Investment Banks in Distribution directory is a listing of firms with expertise in the wholesale distribution industry.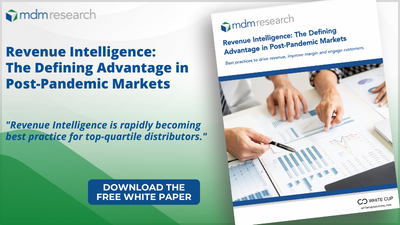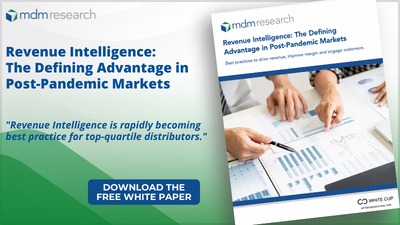 Revenue Intelligence: The Defining Advantage in Post-Pandemic Markets
Since the onset of the pandemic, Modern Distribution Management has identified key differentiators between…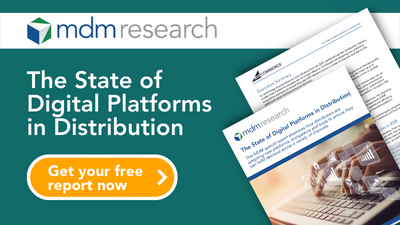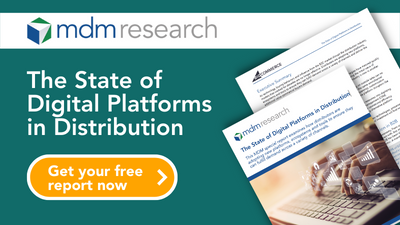 The State of Digital Platforms in Distribution
This MDM special report examines how distributors are adopting new platforms, ecosystems and tools…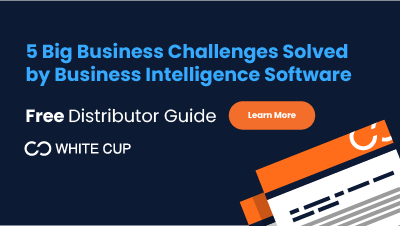 5 Big Business Challenges Solved by Business Intelligence Software
Distributors find their most significant business challenges are typically centered in five areas. In…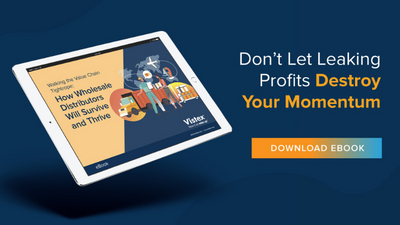 Walking the Value Chain Tightrope: How Wholesale Distributors Will Survive and Thrive
Wholesale distributor margins will always be dependent upon striking the right balance. Distributors are…

Build strategic sales plans.

Determine market and demand.

Create smart prospect lists. 
Turn your sales data into actionable data with Market Prospector.  A web-based SAAS tool that gives you insight into your market, your territories, your customers and new prospects too. 
Sign Up for the MDM Update Newsletter
Our daily newsletter is your best source for news and trends in the wholesale distribution industry.