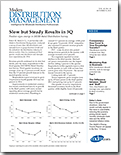 This is the PDF of this issue of Modern Distribution Management.
Table of Contents:
MDM-Baird Survey: Slow but Steady Growth in 3Q Survey
MDM Interview: Minimizing Risk in Your Business
Commentary: How Good is Your Knowledge Transfer?
The Difference Between Stock & Stuff
News Digest
Are you a subscriber? Simply log-in to view this issue.