In the two-plus years following a volatile 2020 — which was marred by the COVID-19 virus and pandemic-related shutdowns — the pace of mergers & acquisitions in the industrial distribution and manufacturing sectors appears to have settled. With just about six weeks until our 2023 Virtual M&A Summit, we at MDM decided to look back at the last couple of years of M&A-related news and data to see how the industry fared in 2021 and 2022 — and what that might mean for the pace of M&A in the year ahead.
Between 2021 and 2022, MDM has reported on approximately 521 mergers and acquisitions among industrial distributors and manufacturers — 263 in 2022 and 258 in 2021. Admittedly, with the volume of deals that occur each month and the number of distribution sectors we cover, it's certainly possible a few deals slipped through the cracks here and there.
And while the overall numbers are similar, both years also saw other consistencies as companies continue to adapt to a new normal in the industrial realm: Both years saw relative slowdowns in M&A activity between February and May before picking up the pace in the second half of the year. (Take a look at our month-to-month comparison in the charts below.) In 2022, MDM reported 148 deals between July and December; in 2021, the total was 154 for the same period.  We can contrast both of those totals with the 113 reported for the last six months of 2020, 34 of which were announced in December. And with December 2022 posting 24 deals and December 2021 showing 31, all three years bucked predictions for end-of-calendar slowdowns by producing consistent or better-than-expected numbers.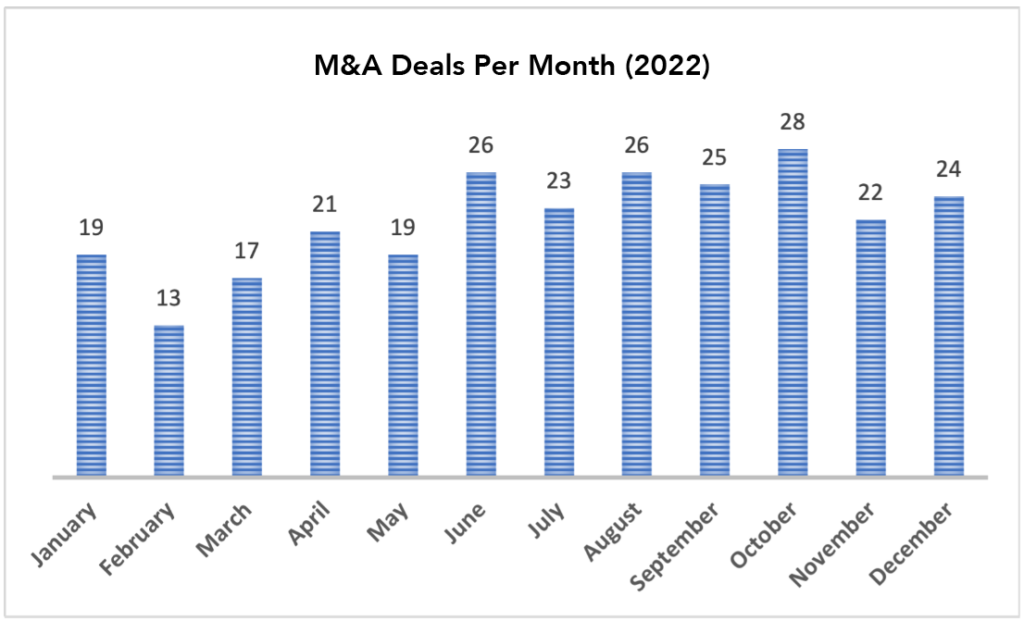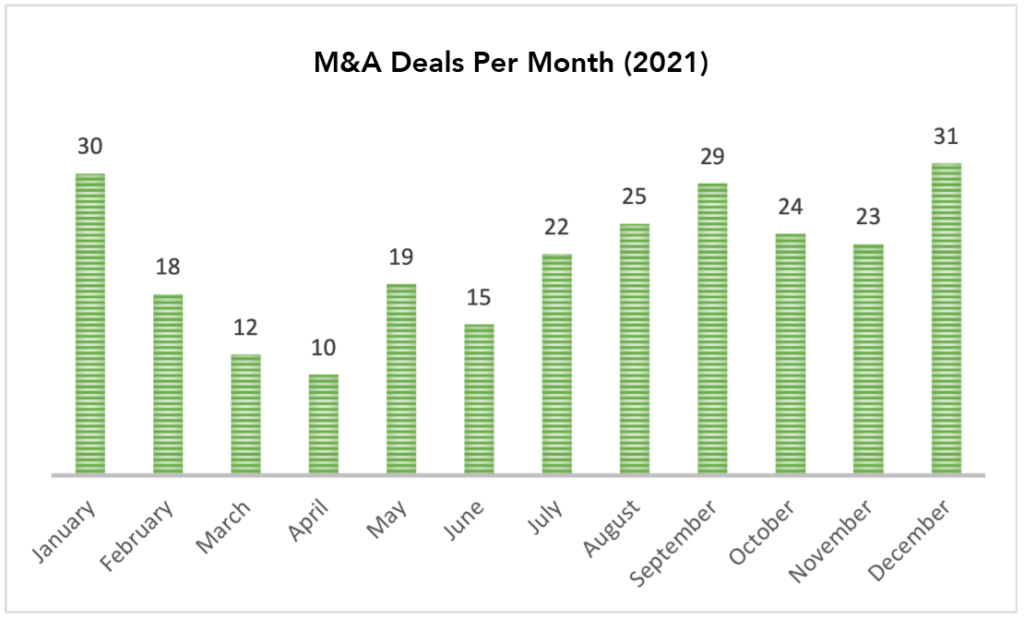 Coming Feb. 22-23: MDM's Virtual M&A Summit
These first two weeks of the year have been overflowing with acquisition news. There's already been plenty of instances where our staff is alerted of a new such announcement right as we're in the middle of writing up news briefs on multiple others. The flurry of M&A activity 2023 has begun with perfectly tees up the value of the aforementioned upcoming MDM Virtual M&A Summit, coming Feb. 22-23. From 10 a.m. to 2 p.m. CT each day, we have an excellent program of speakers and content that dive into the what, why and how of the dealmaking process. Whether you're a distributor just starting to think about making a bolt-on move; a distributor looking to sell; or a distributor in the middle of a deal; our summit has content for everyone on the M&A timeline.

Our lineup of speakers includes Motion President Randy Breaux, Turtle & Hughes Chairwoman Jayne Millard, BlackHawk Industrial President & CEO John Mark; and SBP Holdings President & CEO Craig Osborne — each who has led their company through completed deals over the past several years. We also have speakers from several investment banks and industry advisement firms, along with analysis from MDM CEO Tom Gale and Executive Editor Mike Hockett.
Join our two-day intensive Virtual M&A Summit to gain valuable insight into how to execute deals; how to position your company for investment; and how to generally strengthen your short- and long-term M&A strategies by learning from those well-versed in these activities.
The High-Dollar Highlights of M&A in 2022:
While 2022 had a more-than-respectable number of M&A deals, the year also wasn't short on quality. The year produced multiple billion-dollar deals featuring companies that do business in the industrial distribution and manufacturing realms. Here's a list outlining some of the biggest deals of the year:
Regal Rexnord to Buy Altra Industrial Motion for $5B: Electric motors manufacturer Regal Rexnord Corporation announced Oct. 27 that it reached an agreement to acquire Altra Industrial Motion Corp., a Massachusetts-based manufacturer of automation equipment and power transmission components. Regal Rexnord said it would acquire 100% of Altra for $62 per share in an all-cash transaction, which is expected to close in the first half of 2023.
Avient to Sell Distribution Unit for $950M: Specialized polymer materials maker Avient Corporation announced Aug. 12 that it reached a deal to sell its distribution business to an affiliate of H.I.G. Capital for $950 million. It followed Avient's April 20 announcement that it was exploring a sale of the business while acquiring DSM Protective Materials for nearly $1.5 billion.
Owens & Minor Closes $1.6B Apria Deal: In March, Richmond, Virginia-based Owens & Minor Inc. closed its previously announced $1.6 billion acquisition of Apria, Inc., an integrated home health care equipment provider. The purchase was funded with a combination of debt and cash on hand, Owens & Minor said.
Fortna and MHS Global to Retain FORTNA Brand Following Merger: The merger of material-handling automation distributor MHS Global and warehouse distribution solutions provider Fortna resulted in a single combined entity that will be known as FORTNA, the companies announced Nov. 1. The merger was first reported in April and is valued at approximately $4 billion.
Pentair Acquiring Manitowoc Ice for $1.6B: Pentair plc reached a definitive agreement to acquire Manitowoc Ice, a provider of commercial ice makers, for $1.6 billion, subject to "customary adjustments." When adjusted for approximately $220 million of expected tax benefits, the net transaction value is approximately $1.38 billion, Pentair said.
3M to Spin Off $8.6B Health Care Unit, Posts Broad Declines: 3M — the St. Paul, Minnesota-based maker of PPE supplies, Post-it notes and household adhesives — said July 26 that it planned to spin off its Health Care business, which had $8.6 billion in 2021 sales, or approximately 25% of 3M's total revenue. It could take until the end of 2023 to complete, after which 3M will retain a 19.9% stake.
CD&R to Acquire Cornerstone for $5.8B: In March, New York-based private equity firm Clayton, Dubilier & Rice said it would acquire Cornerstone Building Brands, Inc., the largest manufacturer of exterior building products in North America, for $5.8 billion. The deal was announced an all-cash transaction, CD&R said.
Stanley Black & Decker Completes $3.2B Security Sale: On July 22, Stanley Black& Decker announced that it completed the previously announced sale of most of its Security assets to Securitas AB for $3.2 billion in cash. The transaction was initially announced on Dec. 8, 2021.
See MDM's Investment Bank Directory for a rundown of the key investment banks and advisory firms in the distribution sector.
Review Houlihan Lokey/MDM Quarterly M&A Reports from 2022: