Amazon Business is making significant progress in the B2B eProcurement market. The company is aggressively expanding its reach and is now connected to well over 100 B2B eProcurement systems. This strategy is proving to be successful, as Amazon Business is currently being used by 55 of the Fortune 100 companies, 40% of the most populated local governments, and over 50% of the largest hospital systems in the United States. These large customers aren't necessarily buying on Amazon.com — they are procuring out of their ERPs.
In this report from Applico's Distribution Technology newsletter, we take a look at new findings on Amazon Business and eProcurement.
Amazon's Best Kept Secret: eProcurement Integrations
Amazon Business recently hosted its Reshape event for the first time in-person, billed as the premier global event for procurement professionals e.g. business buyers. For multiple years, we've warned incumbents in the B2B industry about what we consider Amazon's best kept secret – eProcurement Integrations. Amazon isn't known to break from its normal operating model. Punch-out integrations are a big deviation because Amazon doesn't control the end-to-end buying experience. But, with over 100 integrations and counting, it's clear that this strategy is working and Amazon Business is continuing to invest heavily in it.
Amazon Business Integrations by Industry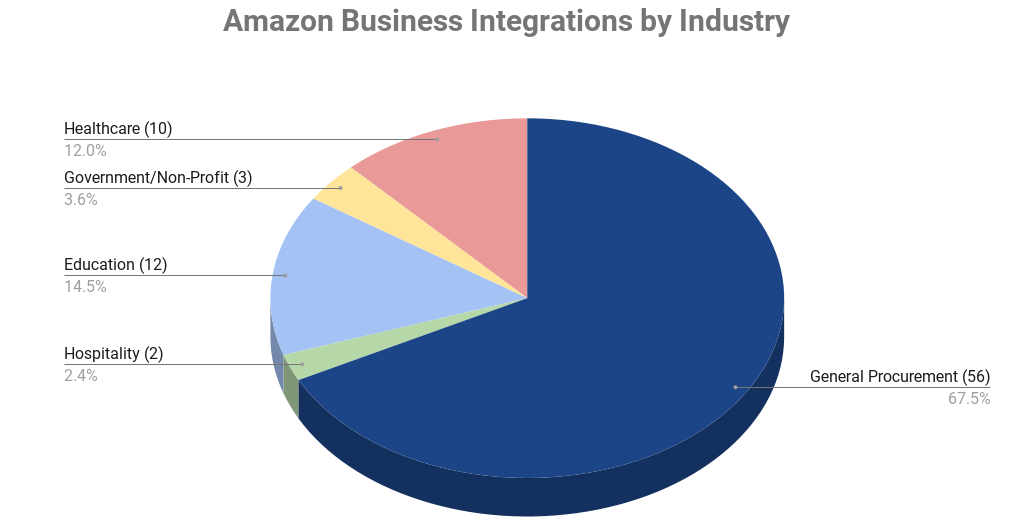 The general category is filled with large, multi-vertical procurement tools. Many of which are part of a broader ERP solution like SAP Ariba, Oracle or Coupa. Amazon Business in the past has publicly stated their desire to focus on healthcare, government and education — so the rest of the vertical-specific integrations line up with those prior statements exactly. For the full list of integrations, you can see the list here.
Amazon Business Punch-Out is the gateway for customers to begin their purchasing experience in their eProcurement portal/ERP. In some scenarios, the transaction can be consummated entirely through the ERP/procurement portal. And, in others, you have to finish the transaction on Amazon Business.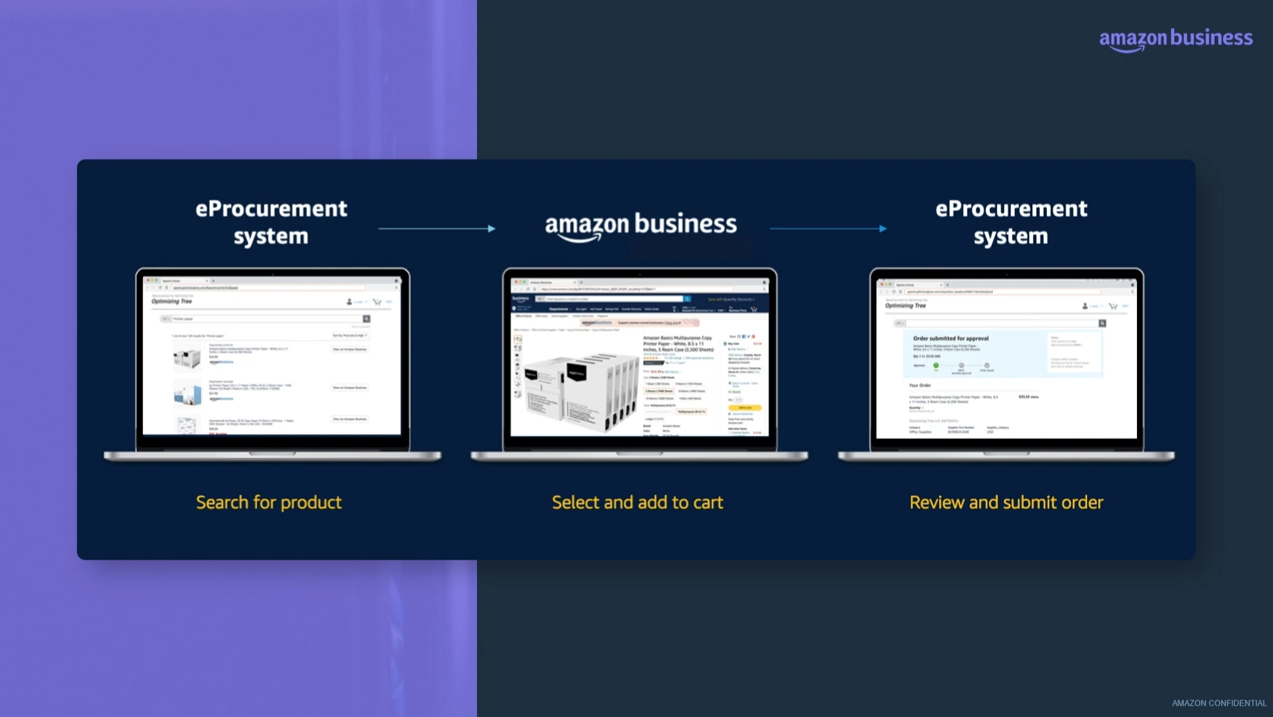 Here's how SAP Ariba describes the Amazon Business integration:

"If someone searches for a red hammer in their SAP Ariba solution, Amazon Business can come back with a list of red hammers, and it fits into whatever their profile is and in terms of what they want to see and not see. You select it, you punch out, you add it to your shopping cart and place the order. But that search is real time, pulling back real time availability, real time price without the maintenance, that catalogs tend to cause over time"

– SAP Ariba Senior Director, Solution Manager of Marketplace and Content, Robert Calvert
Amazon Business Punch-In is a new integration and it is designed to provide a more seamless shopping experience. This integration starts on Amazon Business and ends in the customer's eProcurement solution. It also offers a familiar Amazon interface and has integration with internal processes for compliance and control. Punch-In is available to all PunchOut users and little setup is needed.
eProcurement Market
Amazon Business' presence in the eProcurement market makes them one of the largest, if not the largest in the space. Competitors such as Zoro and Berkshire eSupply only support a few systems. Grainger, however, says their eProcurement integrations work with "more than 100 platforms and marketplace providers."
One of Applico's 2023 predictions was that this would be the Year of eProcurement. And that eProcurement could be bigger than B2B marketplaces. We didn't make these statements lightly. There are no accurate TAM's for eProcurement across B2B distribution. In construction, for example, we think the market is currently around $50 billion.
eProcurement 2.0
This is what we're calling the new wave of SaaS startups that have historically provided tools for SMB's such as catalog management, order management, invoice processing, inventory management and analytics. Now, these SaaS startups are offering procurement capabilities with a vision of becoming B2B marketplaces. One of our top 10 B2B marketplaces, Joor, had this exact same trajectory. I interviewed the CEO, Kristin Savilia, and she talked about how they now do $2 billion in GMV a month.
Stay tuned for future updates with greater breakdown on where we see eProcurement 2.0 headed.
Applico's B2B Technology is a newsletter covering B2B-specific technology insights for leadership at large distributors. Once per week, Distribution Technology gives decision-makers across all verticals of B2B distribution proprietary insight at the intersection of Silicon Valley and the United States' largest industry.