On June 14, France-based digital automation products manufacturer Schneider Electric announced the appointment of Michael Lotfy Gierges as Executive Vice President for its global Home & Distribution division.
Gierges will work out of the company's U.S. headquarters in Boston and lead Schneider Electric's drive to bring the company's Electricity 4.0 initiative to homes through enhanced electrification and digitalization.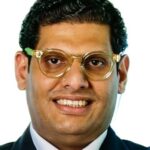 He joined the company as Senior Vice President of Power Products over North and Central America just over a year ago. Gierges is Schneider Electric's youngest executive to lead a global business division.
Gierges will report to Executive Vice President of Energy Management Olivier Blum, the company said.
"At a time where digitization is more crucial than ever as we face the climate crisis, it's critical to maximize energy efficiency and sustainability inside our homes with smart energy solutions," said Blum. "Michael's extensive professional experience, as well as his passionate commitment to sustainable business and net-zero targets, will enable us to continue enhancing living spaces while optimizing operations to better meet ongoing customer needs."