A customer relationship management (CRM) system is a standard tool for distributors. Although the name implies managing customer relationships, traditional CRMs tend to help distributors manage prospects more than relationships with their customers.
Companies often experience low adoption of CRM because sales teams find it burdensome to enter customer data manually. When sales reps don't enter the data — or use the tool at all — distributors cannot use that valuable insight to their advantage. Some sales reps view CRMs as an accountability tool used by management to look over their shoulders and monitor their performance rather than something that will help them organize and manage customer data.
As a result, distributors may miss out on a CRM system's untapped potential: nurturing customer relationships to drive sales growth.
What is CRM?
The definition of customer relationship management is "the combination of practices, strategies and technologies that companies use to manage and analyze customer interactions and data throughout the customer lifecycle." Distributors use CRM systems and software tools to organize their customer and lead information into a single platform to drive sales growth.
Unfortunately, when sales reps relegate CRM to a digital address book, they don't realize the system's full potential.
CRMs provide everyone in your organization with a way to manage their client interactions. Both sales teams and customer service reps alike, for example, can use CRM tools to drive success for your business. Data becomes easier to access since everything is in one place – one source of truth for the entire organization. This data provides visibility into customer interactions, leading to collaboration and productivity increases across the entire company.
With the right CRM tool, distributors have the customer data they need to make a sale, keep a customer happy or increase sales through upselling and cross-selling. To sort through options and find a CRM that will help you manage customer relationships rather than just customer contact info, look for these key features.
Key Features of a CRM
Contact and lead management: All CRMs have simple contact management functions, including the option to leave notes within a customer profile. By documenting previous points of contact with clients, representatives are always fully prepared for future interactions when they can quickly and easily access relevant information.
While many CRMs have lead-scoring functionality, the power of artificial intelligence (AI) sharpens these leads, making them even more accurate. An AI-powered CRM provides your team with visibility into a customer's entire history with the company. AI can then point reps to sales opportunities that most warrant their attention. This includes predictions about what customers will buy and when and where they will buy it.
Marketing automation: Marketing automation functions within a CRM help you stay engaged with customers throughout the entire sales cycle by deploying periodic, relevant messaging through the tool, such as email newsletters.
Analytics and reporting: Use your CRM to create custom reports for your business, such as new leads or losses reports. You can even tap into forecasting tools to make smarter business decisions based on previous transaction history with a client.
Business app integration: Increase your team's collaboration and productivity by leveraging third-party applications. You can integrate email, chat features, calendars, calling software like Zoom or other apps to eliminate the back-and-forth between systems. With integrations, all your important tools are in one place.
Manage Relationships with CRM
Although lead management is a component of customer relationship management, it's not the sole reason distributors use their CRM. In addition, while CRMs provide great visibility into your business if sales reps think it's only used to "keep an eye" on them, the true benefits you could be reaping — to manage and strengthen customer relationships — are lost.
To foster improved interactions with customers, you need to deliver a stellar customer experience. And you can do this by adding artificial intelligence (AI) to your CRM and using both to their full capacities. Distributors need a more intelligent CRM. An all-in-one system powered by AI will transform CRM while adding greater value for sales reps, customer service teams and customers.
Store demographic data and personal information. Gain a comprehensive understanding of your customer. With this data, every department across your organization has access to helpful insights about your customers.
Enable multiple employees to access the same account. Everyone gets clear visibility into what activities sales and customer service representatives have had with each customer.
Personalize communication with your customers by sending the right message at the right time. For example, with AI insights, you can see when repeat customers are due for a reorder. Get a timely, curated message in front of them when they need the reminder to order.
Utilize automation. By automating mundane, data-entry tasks, your reps can increase their efficiency and productivity. Their valuable time can be used for more important tasks, like prioritizing customer engagement. Automate the administrative tasks and allow your sales team to focus on finding new sales opportunities and nurturing leads.
If your current CRM isn't helping you manage customer relationships and ultimately drive sales growth, it's time to find a solution that will be more effective for your business.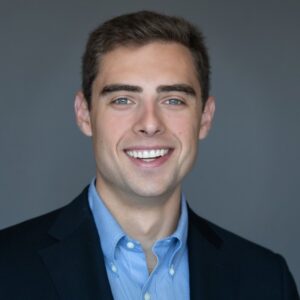 Benj Cohen founded Proton.ai to help distributors harness cutting-edge artificial intelligence. He learned about distribution firsthand at Benco Dental, a business started by his great-grandfather. Later, while studying applied math and data science at Harvard University, Cohen saw an opportunity to bring his two worlds together. He's on a mission to supply distributors with the innovative technology they need to thrive in modern markets. Reach him through proton.ai.